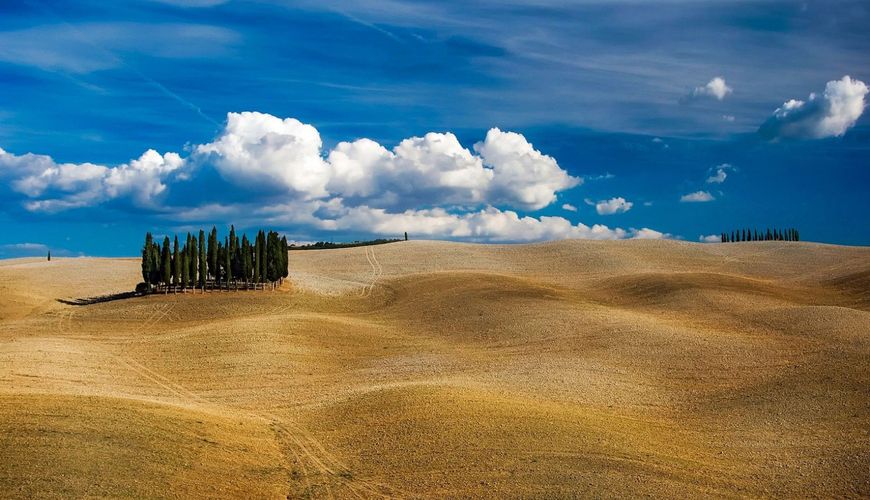 Have you ever seen a painting come to life in front of you?
Have you ever been breathless in front of the beauty and majesty of unspotted nature?
Well if the answer to these two questions is "no", then I think that this is the right time to come to Val d'Orcia.
In the heart of Tuscany this little corner of paradise enchants tourists and not only, thanks to the sinuous hills that change their suggestive colors with the passing of the seasons, the avenues of cypresses create an atmosphere of pure magic and the charming farmhouses that frame this wonderful place are a bit the dream of us all, don't you think?
Changing home is a real choice of life, which sometimes means changing the quality of life.
So how would your life change if you decided to buy a property in Val d'Orcia?
-LA DOLCE VITA: it is certainly one of the aspects that characterizes this area, the desire to enjoy life in total relax by applying a Slow life principle.
This does not mean that you don't work hard and well, but you do it without being overloaded by the frenzy and stress that characterizes many cities and metropolises.
Life is a precious gift, and as such it should be exploited to the full! Working, making projects does not mean forgetting the beauty of family, friends and nature that surrounds us, so it is right to stop, slow down to fully enjoy every moment.
- GENUINE ZERO CHILOMETER PRODUCTS: Gym, Pilates, yoga, all practices that surely make body and mind feel better, but to make a good home you have to start from the foundations, and the foundation for a healthy body is definitely the food!
In Val d'Orcia you will have the opportunity to buy incredible and zero kilometer food products, directly from the manufacturer.
You can buy freshly made cheese, vegetables from the farmer who cares for them and collects them, meat directly from the farmers who let their animals grow in healthy environments and in total freedom.
Your body can only thank you for this wonderful gift.
- THE PERFECT CLIMATE: The Val d'Orcia, like all Tuscany, has the privilege of being in a unique and privileged position compared to all other Italian countries.
Here in fact the Tyrrhenian Sea and the peaks of the Apennines make an excellent teamwork, giving us the opportunity to have warm and sunny summers, without ever reaching unbearable temperatures, while the winters are cool but with very mild temperatures.
This certainly favours the tourism business which has its peak in summer, but which also shows excellent results during the rest of the year!
- HAPPINESS AND CAREFREENESS: In the historical villages of Val d'Orcia is celebrated the genuineness and beauty of the landscape, in fact, parties are organized to promote the typical products of the area, creating unique and characteristic events, where music and traditional dances create an enchanting setting.

TOURISM IN VAL D'ORCIA
Well obviously Val d'Orcia is one of the most visited and appreciated Tuscan places by tourists from all over the world, not only for the landscape but also for the medieval villages that enchant passers-by thanks to their suggestive churches, historical monuments and delicious culinary specialties to say the least!
Tourism is in fact one of the most developing sectors of this area, in fact small farms, farmhouses and B&Bs are starting to be born to welcome all the tourists who, more and more, ask to visit this beautiful valley.
Many of the entrepreneurs who decide to make this choice are former inhabitants of big cities who, tired of the city routine, take refuge in this place of peace and quiet creating their business.
Here you won't find grey hotels waiting for you but welcoming country houses, in rustic style, where you can immerse yourself completely in the Tuscan tradition, tasting the typical products and enjoying a sensational sunset with an excellent glass of Nobile di Montepulciano.

7 PLACES NOT TO MISS IN VAL D'ORCIA
Let's face it, tourist guides are terribly boring, and planning a decent itinerary without knowing the area can take a very long time, so today I decided to tell you a few little secrets to see all the most beautiful and fascinating places and villages of the Val d'Orcia, which I will explain later in the following articles.
Are you ready to leave?
Here is the list of the 7 things you absolutely must visit in Val d'Orcia:
1- Pienza: The perfect city exists! Pienza is a small jewel nestled in the rolling hills of the Val d'Orcia, with its beautiful square, its monuments and palaces rich in history, the narrow streets and romantic views will leave you speechless.
The cheese here is the undisputed king, in every corner of this village the enveloping smell of typical products and especially pecorino cheese will accompany your every step.
It is impossible to resist a taste.
2- Castiglione d'Orcia: A magical village, immersed in landscapes of incredible beauty, characterized by the typical geological conformations: the Crete.
3- Bagno Vignoni: One of the most charming villages in the Val d'Orcia, where beauty meets the well-being of the most famous thermal waters in history.
4- San Quirico d'Orcia: a very ancient village rich in history, San Quirico has surprises in every corner.
5- Montalcino: Not only wine! Montalcino is also a splendid town rich in art and history.
6- Monticchiello: A small village perched on the hill, where time has stood still: mighty walls, narrow alleys, authentic beauty just outside the most classic tourist itineraries.
7- Castiglioncello del Trinoro: an enchanting village with a truly interesting history and present.
Do you want to know more? In the next articles I will try to tell you some little secrets about everything you can visit in these beautiful historical villages.
DON'T MISS OUR FANTASTIC SELECTION OF HOUSES FOR SALE!