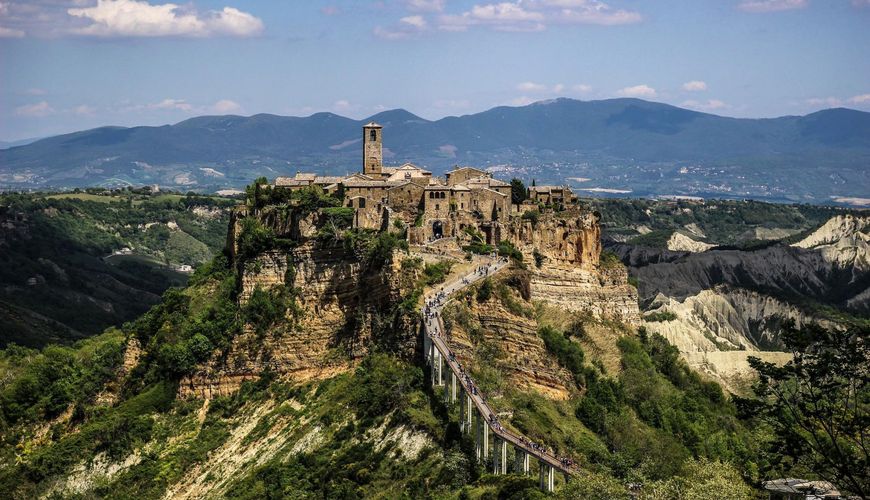 Here we are in the company of our devoted readers.
As usual our real estate agency Rolling Hills Italy is trying to give some advises to our clients who want to buy an house in Umbria and Tuscany, so that you will be able to better appreciate our beautiful territory.
This article talks about Civita di Bagnoregio, an enchanting village located between Umbria and Lazio.
This wonderful place rises on the Calanchi Valley and it is also called the dying city, do you know why? Every beautiful thing come to an end, and this is also true for Civita Di Bagnoregio.
As you ca see in the photograph, this village has a unique shape, due to the fact that it is surrounded by many rivers that eroded the valley over the time, so in few years the promontory in which Civita di Bagnoregio rises is going to collapse.
Obviously this village is almost uninhabited, there are only 12 inhabitants and it is not viable by car, these elements give to this location a unique atmosphere, in fact it looks as if we were living in a parallel world, where silence rules.
Civita di Bagnoregio is a village full of history, in fact it was established 2500 years ago by Etruscans, who left many tracks of their passage like works of art and architecture, but the majority of building that are present in this village have medieval origins, and only few of them have been recently restored.
Even if Civita di Bagnoregio is a dying city, many events are planned every year, the most famous are:
• Palio della Tonna: takes place in the most important square of the village, in front of the church of San Donato, during the first Sunday of June, and the second Sunday of September.
This event consists in a race between donkeys, in order to celebrate the fact that donkeys were very important in the past for the transport of raw materials.
• Civita Cinema: this wonderful and suggestive event takes place in June, and the village becomes a real mix of music, and art, in fact the alleyways of Civita di Bagnoregio welcomes touring shows and film screenings.
• Civit'Art: between July and August in Civita Di Bagnoregio there are some theatre performances, concerts, and cultural events.
• Il Presepe vivente: It takes place the 26th and the 30th of December, the 1st and the 6th January.
During this event people celebrate Christmas, re-enacting the birth of Christ.
In our opinion, you must visit this village because of its beauty, art, history and also because we don't know when it will fade away.
Also in this time, we have tried to explain to you why it is so beautiful living in Umbria, and we have gave you also another super useful advice about what to visit in this area of Italy.

We really hope that you enjoyed our blog, CONTACT US for more information.

TAKE A LOOK AT OUR SELECTION OF VILLAS AND FARMHOUSES FOR SALE IN UMBRIA AND TUSCANY